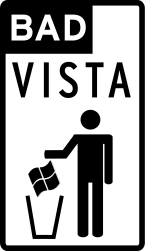 I was trying to avoid blogging about Windows Vista. Really. But I just can't.
It all started with all those people talking about it. The media. Radio stations "offering" Vista licenses. All those comments I've heard yesterday on Tecnonov about the release. The discussions seen on mailing lists. I had to write this.
Ten things you should know about Windows Vista:
Did you know that Koreans are having a problem with Vista that his politicians are even afraid talking about it? That's right. An official of the Ministry of Information and Communication said on condition of anonymity,

"We have been jointly working with Microsoft since the third quarter of last year. Even if there were many problems due to our domestically-developed application programs, Microsoft was late in providing us data on their technology, causing such confusion."

Oh, and software, you know, like an Operating System, have licenses. You should read Vista's license, where you can see that...


"using the software also operates as your consent to the transmission of certain computer information during activation, validation and for Internet-based services."

,

or...


"You may install one copy of the software on the licensed device. You may use the software on up to two processors on that device at one time. Except as provided in the Storage and Network Use (Ultimate edition) sections below, you may not use the software on any other device."


, meaning that if you have one disk partition you install it there and only there. If your hard drive blows up, you have to pay for another license,
or...
"

Microsoft may use the computer information, error reports, and Malware reports to improve our software and services. We may also share it with others, such as hardware and software vendors. They may use the information to improve how their products run with Microsoft software."


, meaning that Microsoft has rights upon "your" data (if you technicaly still consider it yourse) and do with it whatever they want, including giving it to whomever they want, so they can do whatever they want with it?
Did you know that

Windows Vista is not legal in Europe? Of course that people still buy it, in an epidemic way that turns profitable to sell it, even if ilegal, and pay the fines...
Did you know that Vista is full with DRM?
And do you know Vista's real price?
How many are you going to kill?
And number ten: do you know all these other things?